2er Sparpack litter box cat litter DENVER with built-in sieve + free cat toy
This exclusive cat litter set is ideal for medium and small fur noses. So that your darling can let off steam, this set includes a great cat toy!
Description of cat lavatories DENVER:
The litter box consists of four parts: 2 lower shells plus a lower shell with sieve insert and a border for easy cleaning of the toilet. With its simple click fasteners, this toilet is super fast to open and close. If you want to cleanse your pet's quiet spot, just sift the litter into the bottom shell, and the wide grooves make it easy to separate feces and lumps from the still-clean litter. The sieve can then be simply emptied, cleaned and placed in the second clean subshell. The clean litter can then be put back into the toilet. The second bowl is put back under the toilet after cleaning. The high circumferential edge prevents leakage of cat litter and urine.
Note on the color of the border: The color of the border is not pure white, e.g. a sheet of paper but rather old-white or cream-white and slightly speckled with small dark spots.
Color: white-anthracite
External dimensions L x W x H: approx. 48 x 40 x 18.5 cm
Description of the cat toy:
A motorized ball is hidden inside a raschel bag made of particularly robust material. As soon as you set the ball in motion, the raschel bag begins to roll unevenly. This awakens the hunting instinct in your cat and of course encourages your cat to play persistently.

Colour: leo pattern
L x W x H: 23 x 15,5 x 8 cm
Necessary batteries (2 pieces AAA) not included
---
Item number
SET226
Category
cat toilets
Color:
White anthracite
Material:
Plastic
economy pack :
economy pack
cats size:
Kitten cat
Shipping weight:
5,80 Kg
Product weight:

4,90

Kg

Contents:
2,00
Dimensions ( length × width × height ):
48,00 × 40,00 × 18,50 cm
1st feature:
With these new cat toilets with sieve insert, you can use your cat litter particularly sparingly! And your darling will love his new cat toy guaranteed immediately!
2nd feature:
Inner dimensions L x W x H: approx. 46 x 36 x 15 cm, outer dimensions L x W x H: approx. 48 x 40 x 18.5 cm
3rd feature:
Colour: white-anthracite, entrance height: approx. 17 cm
4th feature:
Easy handling and cat litter is saved as only the lumps remain after sieving.
5th feature:
A toilet is always a 4-part toilet. Consisting of: 1 x rim with clips, 1 x bowl with sieve insert, 2 x closed bowls
This product consists of
You are looking forward to an animal new addition to your family? Whether puppy, cute kitten, small rodent or colorful bird - prepare your new roommate a joy and order his toys and accessories here online. At Zoostore you will quickly get useful information and will surely find the right offer!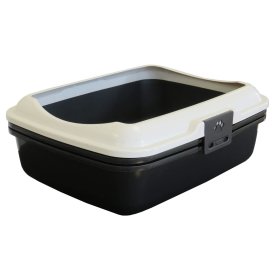 PETGARD
Pawise