3er Sparpack cat toilet HOP IN entry from above beige with free toys
With this nice saving set you get 3 cat toilets HOP IN in beige-white, plus a nice cat toy in the form of a cat angel with fish for free.
The cat litter tray is perfect for cats who urinate standing or backwards. The extra high edges ensure that nothing goes wrong, even if your cat likes to scratch. Litter, urine and feces remain reliably in the shell.
The edges of the holes in the lid are slightly recessed, so the litter from the paws can easily fall back into the shell during leaving. So that the area around the toilet always looks clean!
Suitable for all cat breeds. For cleaning, the cover can be easily removed and hung on the side. The grip recesses on the underside facilitate the lifting and emptying of the shell.
At the side of the toilet there is a small hook which serves to hang a spreading scoop. The spreading scoop is unfortunately not included in delivery.
Colors: beige-white
Entry L x W: ca 23 x 25 cm
Inside dimensions L x W x H: approx. 55 x 36 x 38 cm
Outside dimensions L x W x H: approx. 58 x 38.5 x 39.5 cm
The color of the fish at the Katzenangel can differ slightly.
Great quality from the brand manufacturer SAVIC from Belgium. You will be amazed by the quality.
---
Item number
3xP102+2376
Category
cat toilets
Shipping weight:
7,10 Kg
Product weight:

6,00

Kg

Contents:
3,00
Dimensions ( length Î width Î height ):
58,00 Î 38,50 Î 39,50 cm
1st feature:
3er Sparset: 3 x Katzentoilette HOP IN beige-weiss plus gratis ein sch÷nes Katzenspielzeug in Form einer Katzenangel mit Fisch.
2nd feature:
Mit gro▀er Íffnung (ca. 23 x 25 cm) oben fŘr den leichten Einstieg
3rd feature:
Deckel mit L÷chern damit das Einstreu wieder in die Toilette fńllt, das Katzenstreu wird nicht mehr in der Wohnung verteilt
4_Merkmal:
Aussenma▀e L x B x H: 58 x 38,5 x 39,5 cm (Innen: 55 x 36 x 38 cm)
5th feature:
Ideal fŘr "Stehpinkler" und Katzen die gerne im Einstreu scharren
This product consists of
You are looking forward to an animal new addition to your family? Whether puppy, cute kitten, small rodent or colorful bird - prepare your new roommate a joy and order his toys and accessories here online. At Zoostore you will quickly get useful information and will surely find the right offer!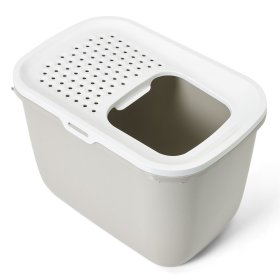 SAVIC