Sparpack XXL cat toilet ORLANDO especially for large cat breeds including paw mat
In addition to the cat lavatory, this practical economy pack will provide you with a beautiful cat litter mat in paw shape.
Description cat toilet ORLANDO:
This XXL litter box was specially developed for large cats and comes with filter and strainer. It is equipped with hood, swinging door, filters, sturdy closures and carrying handle. For a quick and easy cleaning, the toilet is equipped with a wide-opening door. The filter prevents unpleasant odors and can be replaced
Dimensions L x W x H: 70 x 57 x 46 cm
Color: white-anthracite
Note on the hood color: The color of the hood is not pure white, such as a sheet of paper but rather old-white or cream-white and slightly speckled with small dark spots.
Description mattress:
This great rug effectively catches worn litter when leaving the toilet.
In addition, the mat frees your cat's paws from scattered granules that stick between the bales, thus preventing distribution in the home. The mat is made of soft plastic threads that gently strip and hold the litter grains attached to the paws of your stub tiger.
The material of the toilet template also make sensitive cats feel soft and comfortable. For cleaning, you can easily vacuum the rug or simply shake it out. In case of heavy soiling, this mat can also be cleaned wet.
Color gray
Outside dimensions L x W: 57 x 45 cm (paw shape)
---
Item number
SET216
Category
cat toilets
Color:
White anthracite
Material:
Plastic
economy pack :
economy pack
cats size:
cat big cats
Shipping weight:
5,20 Kg
Product weight:

4,60

Kg

Contents:
1,00 Set
Dimensions ( length × width × height ):
70,00 × 57,00 × 46,00 cm
1st feature:
XXL Cat toilet outside dimensions L x W x H: 70 x 57 x 46 cm, Cat litter mat outside dimensions L x W: 57 x 45 cm (paw shape)
2nd feature:
Especially developed for large cat breeds such as Maine Coons.
3rd feature:
Large front flap and carrying handle in the lid. Delivery includes activated carbon filter, gritting spoon and paw-shaped mat.
4th feature:
The cat litter is no longer distributed in the apartment. Thanks to the large flap, cleaning is very easy.
5th feature:
This cat toilet is so large that most large cat breeds can even turn around in it.
This product consists of
You are looking forward to an animal new addition to your family? Whether puppy, cute kitten, small rodent or colorful bird - prepare your new roommate a joy and order his toys and accessories here online. At Zoostore you will quickly get useful information and will surely find the right offer!
PETGARD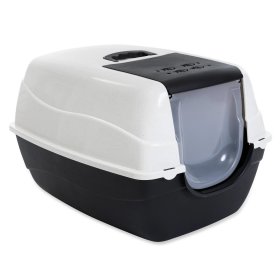 PETGARD